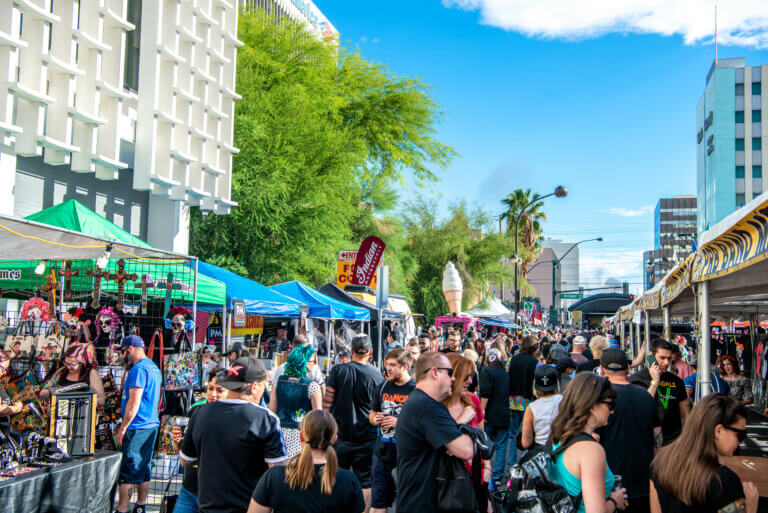 Take a stroll down Vendor Alley and shop small Punk owned businesses! You can score everything from apparel, to limited edition vinyl, skateboard decks and more! Plus, don't forget to checkout all our friends at the Non-profit tents!
Punk Rock Bowling offers a full selection of the finest food trucks around. Grab a slice of pizza, gourmet tacos, vegan comfort food, smokehouse bbq, or a Japanese burrito, PRB has you culinary cravings covered.
Past food options include:
The LATE-NIGHT-GET-RIGHT of Las Vegas coming to the Punk Rock Bowling festival! 303 In the Cut- Gourmet food truck serving American classics with a green chile twist.
50 Shades of Green provides a variety of organic, fresh, bites from light and fit to heartier, energy filled dishes. All dressings, vinaigrettes & oils are made fresh. Vegan and vegetarian options available.
Ben & Jerry's will be arriving in our famous Cow-Mobile Trailer! Equipped with some of the world's finest ice creams and sorbets, we will have something to fit the pallet of every guest. (including vegan and gluten-free options)
A steaming cup of Korean WOW! There menu includes vegetarian and gluten free options!
Hands down, Garden Grill has the BEST Beer Battered Avocado Tacos in Vegas! Plus, they have a number of other quality cooked or raw Vegan foods for those seeking a healthy choice. Garden Grill's menu is 100% plant based, handcrafted, locally sourced and is a PRB favorite.
Grouchy John's serves up cups of caffeinated happiness and an assortment of rejuvenating fruit smoothies. Whether you need to cure your PRB sized hangover or refuel before you hit the club shows, Grouchy J's is the place to recharge! Straight up, over ice, or blended, it's your call. When it's too hot for an A.R.M. (Almond Roca Mocha), an Iced Dirty Chai Tea Latte is the way to go!
Mac n' Cheese Rebel was born out of a genuine love for, you guessed it, macaroni and cheese! We pride ourselves in making the best plant based mac and cheese you'll have the pleasure of tasting with fresh ingredients, cooked from scratch. And as our motto says, "It's not our fault if we turn you."
Offers just about everything you can imagine grilled, fried, and crispy on top of a tortilla: pork belly, uni, cauliflower, Brussels sprouts, shrimp, kimchi, and many more delicious items.
Hello? Is it Montis you're looking for? We're all you've ever wanted, your mouths are open wide… We can see it in your eyes, you're ready for a juicy, meat surprise! NEW! We will be also featuring bbq jackfruit tacos, bbq jackfruit sandwich and bbq jackfruit loaded fries. All Vegetarian.
Mainstream BBQ with a twist!
PIZZA ROMANA 🌱
Serving traditional thin crust Roma pizza. Margherita , pepperoni, vegetarian ( a mix of seasonal veggies) , romana (meat)- mix of cured meats and greens , spicy pizza – ricotta , spicy cherry peppers, prosciutto.
The best damn Grilled Cheese Food Truck in Las Vegas. Period.
The Cookie Bar specializes in scrumptious sweets baked in small batches and made from scratch, even the brown sugar is handmade! Stop by and try gourmet cookies and treats like soft serve ice cream, soda floats, cones, monster ice cream sandwiches, huge sundaes and more!
We are the Vegan Hooligans, 100 percent vegan comfort food with a punk rock twist!
Truk N Yaki has been serving quality food to its consumers for seven years; among our options, we have Japanese burritos that are authentically Japanese food covered in a flour tortilla with spicy aioli sauce.
AND MORE…!
Past Vendors
Non-Profit Organizations :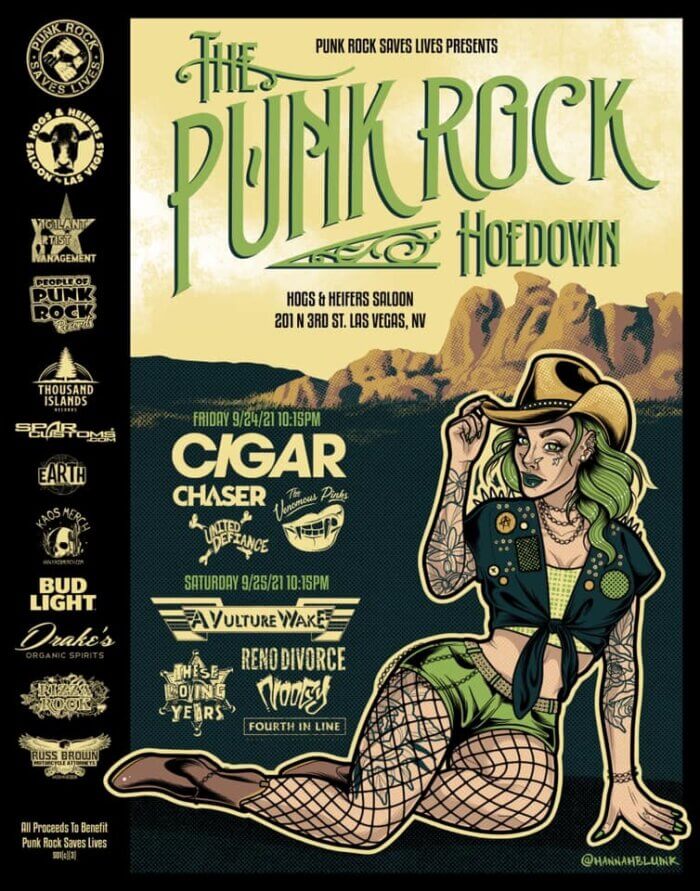 Punk Rock Saves Lives is a Non Profit the challenges the Punk Rock community to affect positive change in the world.
PRSL are hosting their annual Punk Rock Hoedown at Hogs & Heifers Saloon.
These are non-ticketed, first come first serve fundraising shows for PRSL's Wellness and Equality Initiatives. There is a $10 minimum donation at the door each night.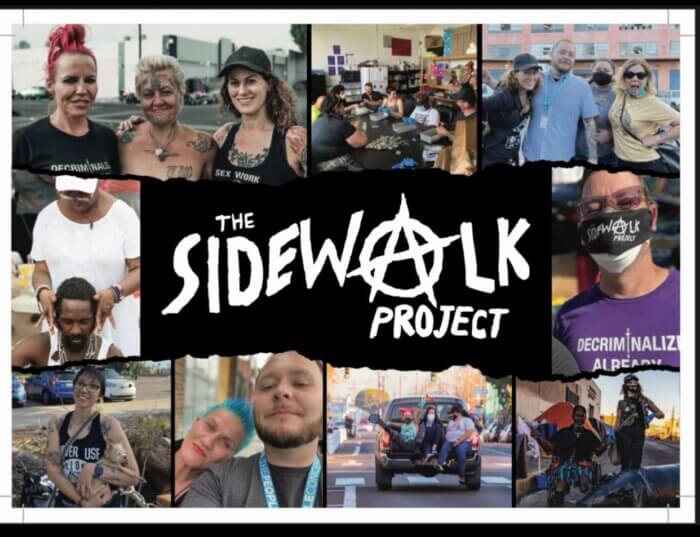 The Sidewalk Project is a street based harm reduction organization. We are happy to join our community at Punk Rock Bowling with a team of trained harm reductionists. We will be offering access to NARCAN, fentanyl test strips, safer sex supplies and educational materials. We will be available to offer judgment free advice and discuss concerns. No shame or stigma, only support.
We are trained and experienced in overdose response and available to support or educate.
Punk Rock Food Drive is a concert event that collects food and funds to benefit local food banks.
They strive to provide a low-cost, All Ages experience to entertain families and friends while providing an opportunity to give back to the community.
Founded in San Diego in 2009 by Jason York and Chris Mazzola, PRFD has raised over 200,000 meals since their first show.
When a billion people go hungry each day, how can we spend another dollar on war? Food Not Bombs is an all-volunteer movement that recovers food that would otherwise be discarded, and shares free vegan and vegetarian meals with the hungry in over 1,000 cities in 65 countries in protest to war, poverty, and destruction of the environment. We are not a charity but dedicated to taking nonviolent direct action. Our movement has no headquarters or positions of leadership and we use the process of consensus to make decisions. We also provide food and supplies to the survivors of natural disasters, and people participating in occupations, strikes, marches and other protests.